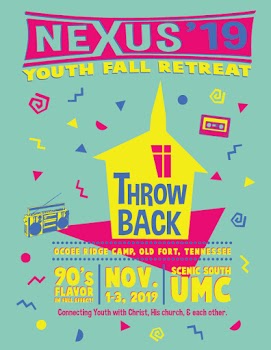 "NEXUS" is an annual fall retreat hosted by the Scenic South District of the Holston Conference of the United Methodist Church. The Scenic South District encompasses all of Chattanooga, Tennessee and surrounding areas. The word "Nexus" actually means "to connect." This is an exclusive United Methodist event. All United Methodist Churches (from any district) are welcome to come and connect with one another at this retreat! We want to connect our churches and our youth with JESUS and each other!
CONFERENCE @ CAMP:
The Fall Retreat is basically a mini-conference with camp style activities thrown in (See "Activities" section). There are four sessions over the weekend with music, games, and messages. Plus, community strengthening things like "Family Gatherings" (which is time set aside to meet with only your youth group).
2019 THEME:
This year's theme is "Throwback!" We have a tendency to turn Christianity into a list of dos and don'ts. To the point where it is possible to be a "Christian" without really following Christ. So, we will spend the weekend "throwing back" to different times in Christ's life and ministry where HE defined what it means to be CHRISTIAN.