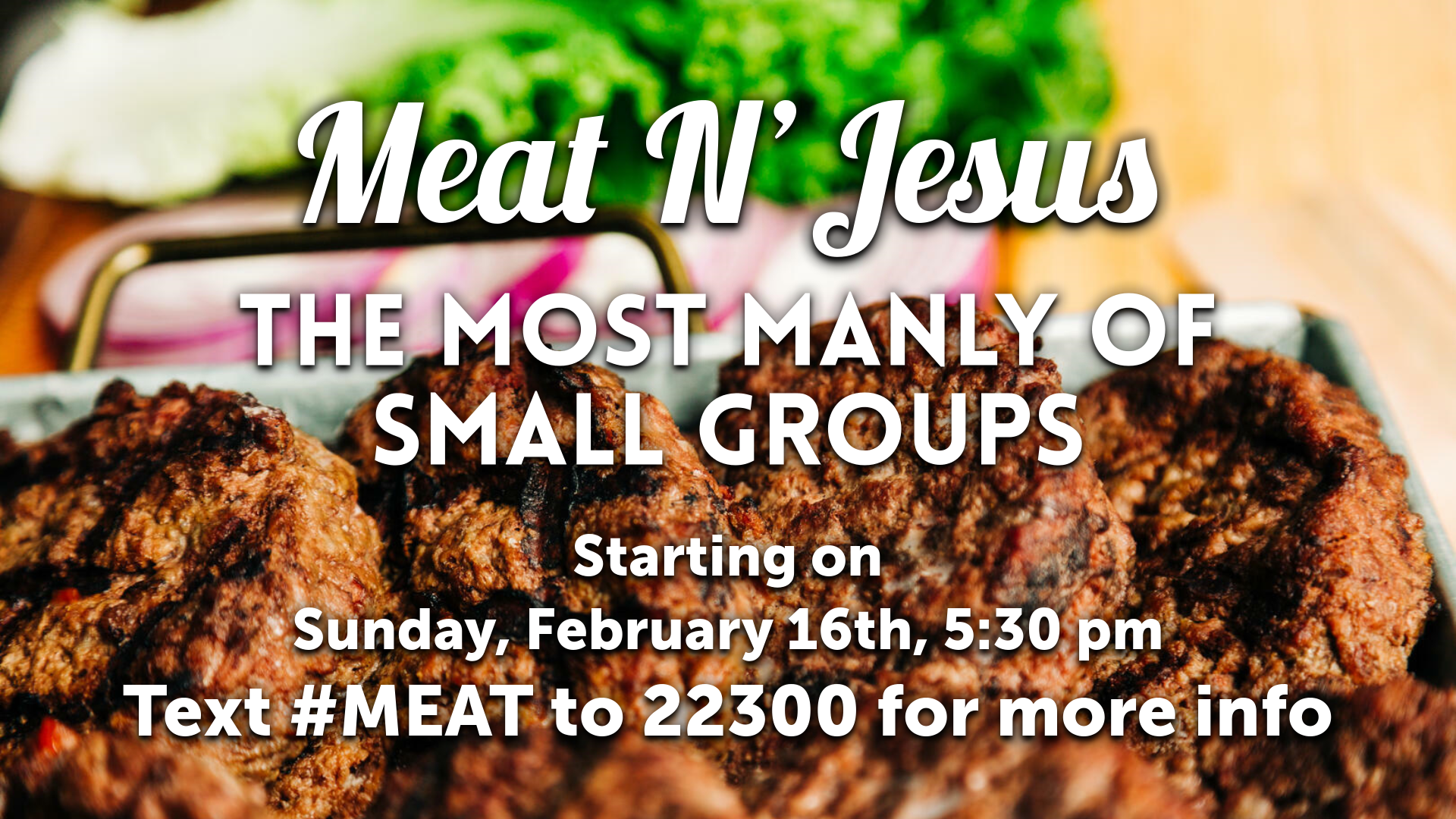 What is MEAT N' JESUS? It's just a bunch of Bros getting together for some MEAT N' JESUS . . . FEB 15 @ 5PM at THE BLACKBURN RESIDENCE! Just quick reminder that the purpose of these MEAT N' JESUS times is pretty simple. First of all, MEAT N' JESUS is simply about providing times every 4-6 weeks for a group of dudes to get together in someone's back yard, chew on some kind of meat (this week it's steak & chicken), and maybe throw some darts or horseshoes while building some solid, genuine friendships. Secondly, MEAT N' JESUS is about growing . . . chewing on a little spiritual meat that will encourage and challenge each of us to increasingly allow God to bring some transformation into some of the broken places that each of us have in our lives. Like it or not, Bros, we need each other . . . and, we absolutely need Jesus!
The Blackburn's address is: 4714 LAKE HILLS CIRCLE, CHATT, TN 37416. We're only about a mile from the Church. RSVP by texting 423-401-8681 a quick thumbs up or thumbs down to indicate if you're going to be able to be a part on Sunday. And if it's a thumbs up add "cluck" or "moo" to give me an idea about food prep.
We know that God has plans for some seriously beautiful brotherhood to come out of these times together. This'll be true if its 2-3 guys who can make it, or if it's all 23 of us! So, when you have the freedom in your crazy life-schedules, COME ON! When life just isn't freeing you up to do much of anything outside of what you're doing, at the very least holler back when you can and let a great group of guys be some encouragement to you . . . even if it's only by text.
There are 23 guys on our current MEAT N' JESUS list. There most likely won't, however, be a time when all 23 of us—and then some . . . as you guys invite other Bros—will have the same freedoms in our schedules to be in one place at the same time. So, Luther Allin, our MEAT N' JESUS team leader, and Pastor Carl will be reaching out to you guys asking for some suggestions of some times and days of the week that are generally good for each of you. It might be a slightly different mix of us who are together at each MEAT N' JESUS, but the goal will be that, over the course of time, we'll all have the opportunity to have at least some genuine connection with each other, creating true friendships and brotherhood.