Community Partnerships
~ in Alphabetical Order ~
Harmony Family Center
Harmony Family Center is not your typical adoption & foster care agency. Harmony is your resource for innovative, evidence-based therapies and programs that are uniquely catered to individual, children, and family needs.
​We are students of the latest science-backed, trauma-informed therapies and services.
​We are not promoters of the "how it's always been" mentality. We are proponents of a comprehensive, interdisciplinary approach that meets each person where they are.
Since 1996, Harrmony Family Center has served over 115,000 children and families.
For every dollar donated, 92 cents goes straight to the individuals and families we serve.
Since inception, Harmony has trained over 13,000 professionals and community leaders.
Historic Camp Montvale offers 364 acres with opportunities to learn, heal, and connect.
98% of participants in our Animal Assisted Therapy programs have experienced success combating the effects of trauma through the partnership with dogs and horses.
To find out more, visit Harmony Family Center.
St John supports adoptive & foster families. As Harmony is based in the Knoxville area, we support Harmony Family Center with Chattanooga meeting space and photography locations. Here are some awesome masterpiece kids that had their adoption bio videos filmed at St John UMC.
Hillcrest Elementary School


Inspire Chattanooga
Inspiring Chattanooga comes from the root word "INSPIRE". INSPIRATIONAL, NETWORKER, STRATEGIC, PASSIONATE, INNOVATOR, RELATABLE, ENTHUSIASTIC. These are the values we pray over and work hard to instill into the women that we minister to on a daily basis.
Through professional development workshops and innovative conferences, we initiate, motivate, collaborate, educate, inspire and create opportunities for women to obtain sustainability that will secure the future of Chattanooga families.
Meals on Wheels
Meals on Wheels delivers so much more than just a meal.
Meals on Wheels has been guided by a single goal since the first known U.S. delivery by a small group of Philadelphia citizens in 1954 – to support our senior neighbors to extend their independence and health as they age. What started as a compassionate idea has grown into one of the largest and most effective social movements in America, currently helping nearly 2.4 million seniors annually in virtually every community in the country.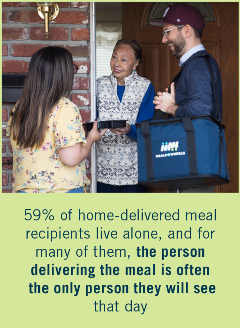 Meals on Wheels is the only federally supported program designed specifically to meet the nutritional and social needs of seniors.
Many volunteers from the St John family support the St. Thaddeus route (as the Hwy 58 area is called). Some also assist as substitute drivers on other routes in the Chattanooga area. If you live in the Hwy 58 area and would like to volunteer to deliver meals, you can click here to see the times available. If you are interested in volunteering in other areas of town, please contact Lenny Simpson.
The area in the most immediate need of drivers is the Downtown route.
To donate to Meals on Wheels, click here.
Photographic Society of Chattanooga
St John is proud to partner with the Photographic Society.
Founded in Chattanooga, Tennessee in 1952, the Photographic Society of Chattanooga (PSC) is a non-profit 501(c)(3) organization dedicated to promoting the advancement of photography as science and art and to educating the public and the Society's members about photography and photographic techniques.
PSC's membership consists of photographers of all levels of expertise – beginners, amateurs, advanced amateurs, and professionals – who associate for the learning of and the mutual enjoyment of photography. With such a diverse membership, PSC caters to a wide range of photographic interests.
The club gives its members opportunities for the enjoyment of photography as well as opportunities for learning whether it be at the monthly meetings (where professional photographers from around the Southeast and beyond are invited to present the programs) or during PSC Field Trips, Socials, Beginners' Boot Camp, or Image Evaluations.
Visitors are always welcome and may attend two PSC meetings before deciding to join! See other areas of the PSC web site to find out more about joining PSC, meeting information, educational opportunities, PSC activities, photography contests, etc.
Find out more on their website.